What a day! Weather changes, road construction and detours; we made it!
171 dresses
completed for today 's report!
Sewers, Volunteers and our new Cutting Team, you are absolutely amazing! Three of our administrative team were out canvassing college campuses. It was surprising to me how we take each other for granted! I hope we made them proud.
Spring SewFest - April 1, 2017
138 Dresses Completed!
There were 20 more dresses at the Post Office!
Thank you to all our sewers and volunteers!
Because of you we met our goal!
We've made 2,077 dresses for girls around the world!
We've distributed approximately1,836 dresses and a few other items such as shorts, and blankets.
Without you, this ministry wouldn't be possible!
As we transition from using the Pillowcase dresses, here are a few of the patterns being used by the sewers.
Project Runway 1023, Simplicity 8102, Simplicity 2383, McCalls 6017 and New Look 6441
April 2, 2016
Spring Sewfest
at
Chapleted United
Methodist Church
We made
85 Dresses
for Girls Around the World
We donated the dresses we made to a volunteer group in Brazoria, Texas.
They are gathering supplies for
Operation Christmas Child / Samaritan's Purse.
They are packing 5,000 boxes for children to be delivered in time for Christmas 2016!
300 Dresses Sent to Dominica - November 2015
70
Dresses sent to Guatemala
July 3, 2015
Thanks to Rev. Arnie, Daren & Heidi Walker and the Latin American Ministrries for the work they do around the world, and for distributing our dresses to the girls!
150 
Delivered to Nigeria in March 2015
Picked Up by Christopher Bartley of the Crossroads Church 
WHY WE DO WHAT WE DO! YEAH!!!!!!!!!! 
Sewing to Serve! 
Fall Sewfest - October 18, 2014 
Dress Production - 224!!!!!
Save the date for our
Spring Sewfest - April  11, 2015
Hope to see you in the place so we can continue to bless girls around the world with their very own dress!
          Phillippine Project  -  July 19, 2014 
We sent  369 Items to the Philippines with The First Philippine Baptist Church of Houston.  
All the items were presented to the pastor and his family 
 at the Wednesday night Bible Study of
The Refreshing Church, March 16, 2014. 
The dresses and other items arrived to the Philippines
July 2014! 
(320 Dresses, 33 Britches (Shorts for Boys),
12 Baby Jackets, 4 Blankets)
 To all the sewers and volunteers, while we were sleeping, our gifts of service was being shared with children around the world! Amazing, making a difference one child at a time! Thank you for all you do twice a year!
      82 Pillowcase Dresses to Zambia, Africa - June 19, 2014
Our last 82 dresses went to The Tree of Life Orphanage in Zambia Africa! June 19, 2014. The Tree of Life Orphanage rescues children from severe cases of abuse and poverty by placing them in the Children's Village that provides a safe haven for hope  and healing.  The children at the Tree of Life receive both the educational and spiritual development that will equip them to become future leaders of their country.  The sweet woman and her family that took the dresses have returned and they are so grateful to the "Sweet Ladies and Volunteers at Sewfest".  The dresses were a success and the looks on the parents faces were priceless.  They will be sending photos of the girls
        Website for Dress A Girl Around the World Organization
 Click on the link below, for more information about DAG Organization.
               Fall Sewfest  - October 23, 2013
 Making a difference in the life of a girl whose eyes light up just to own their very first new dress is the reason we celebrate and keep sewing to serve girls around the world.
To date we have sewn over 900 dresses; dresses that have been sent to countries such as Cambodia, India, Kenya, Ghana, Uganda, Pakistan, and to shelters here in Houston.  
We were successful in collecting donations to sponsor a woman in Uganda to attend school for a year, and now she is able to better take care of her family.
We are so grateful to the Chapelwood Church, as we approach our 7th Sewfest there. We are just as excited and energized to gather together to sit, sew and accomplish our goal of serving others as our very first time.
Because of our sewers and volunteers, we made and collected 186 dresses to bless a girl somewhere around the world!
To God Be The Glory!!!!!! 
Total Dresses for the day - 186 !!!!!!!!!!
Sewing to Serve
Dress A Girl Sewing Group of A Cinderella's Dream
            Spring Sewfest - March 24, 2013
114 Dresses!!!!!!!!
Thank you to all the sewers and volunteers for making this day successful! We have more dresses to spread around the world.
Welcome new volunteers from The Refreshing Church-Reaching Out Team and Sewers from Chapelwood's Sewing Group!
      100 Dresses On Their Way to Ghana   
Dresses were shipped March 27, 2013

Ms. Wilma and her church group will send, ship, and deliver 100 dresses to girls in need to Ghana! Ms. Wilma and I are so excited to see the girls in the dresses. Photos coming soon! 
                     10,000 Dresses to Cambodia
Here is a great opportunity for all of us! We have to do it quickly:)
Om Ships wants 10,000 dresses to distribute to Cambodia in November.
                    This the email request we received from the director of DAG July 10, 2012.
We were able to mail 30 dresses this month!
The deadline has been extended to August 18th to send more dresses.  It is my desire to mail 30 more at that time! 
It is a great joy to be able to be part of a mission that will touch so many girls around the world. I will write with more details about the trip as I receive them. Thank you all for your commitment and your willingness to set aside a day to sew the dresses for the girls!
           40 Dresses for the Little Eden's Children Home
40
Headed to Nairobi, Kenya
The Little Eden's Children Home
 With Shannon Rademacher of the First Baptist Church, Houston.
(Sent Dresses with Shannon June 7, 2012 to be delivered in July.)
Dresses were made from our Spring Sewfest.
http://www.facebook.com/photo.php?fbid=445212385496999&set=a.345584488793123.87046.242196205798619&type=1&theater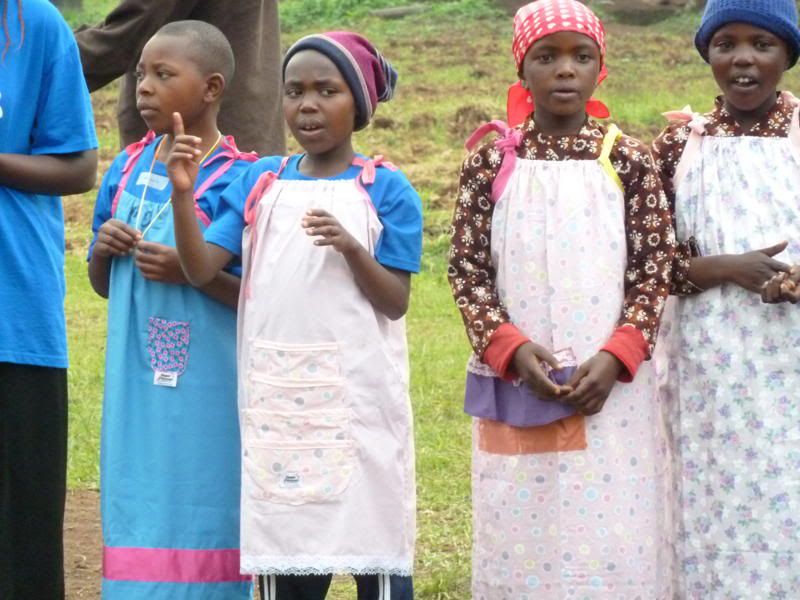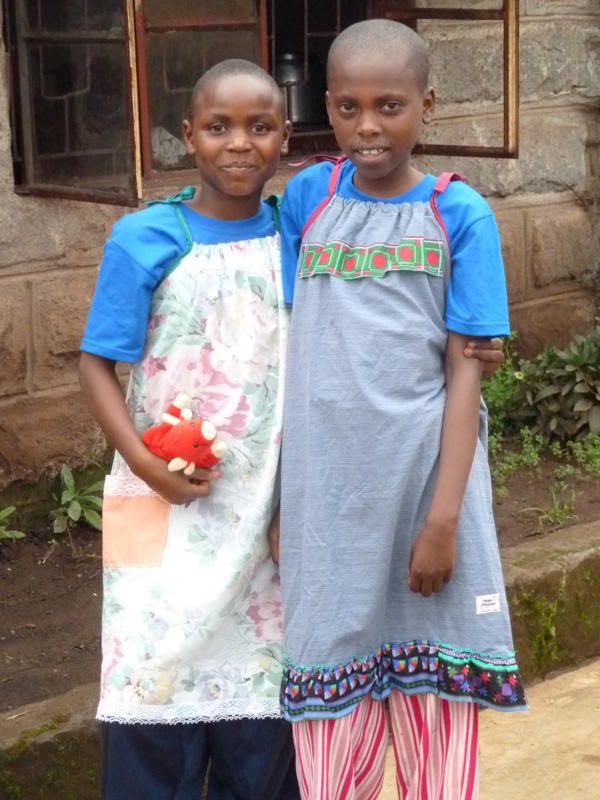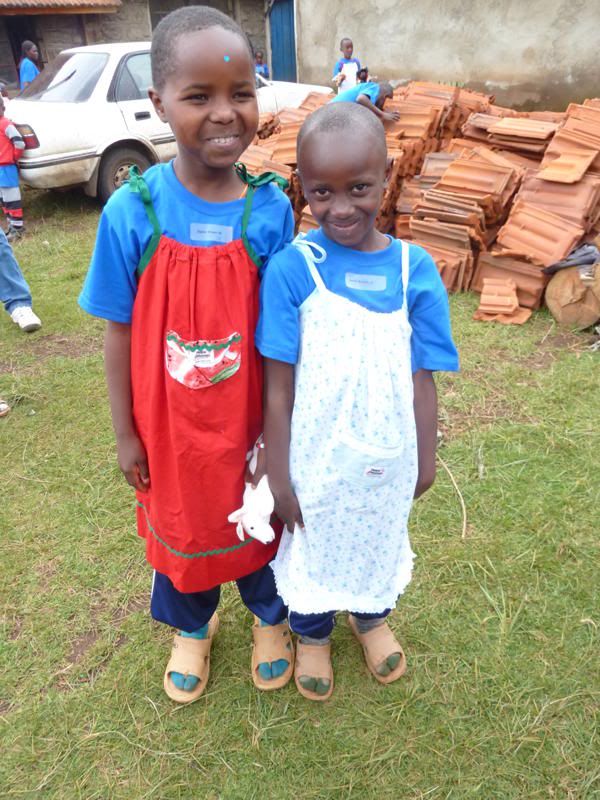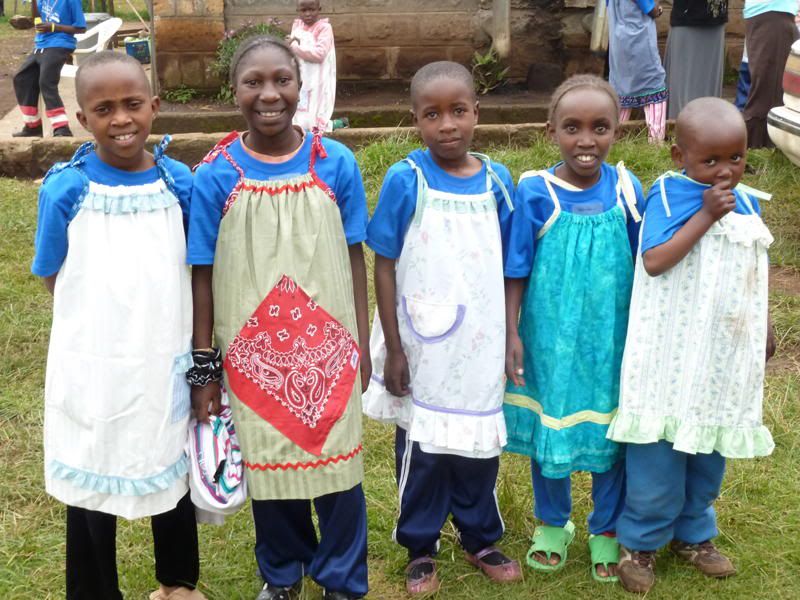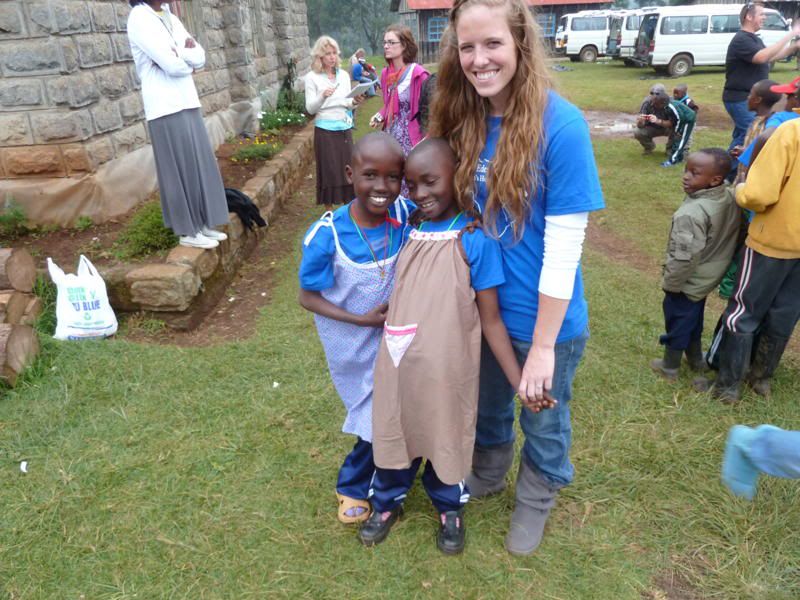 July 30, 2012
We were able to distribute the dresses on our last day at Little Eden's Children Home in Kinangop Kenya (about 1.5 hours outside of Nairobi).  This is a farming community.
Thank you so much for bringing joy to these little girls.
Shannon Rademacher
    Woman Sponsored by A Cinderella's Dream Sewers
   To all the Sewing to Serve Sewers and Volunteers,
We did it!
We met our sponsorship goal!
Click link below to see photo.
http://www.facebook.com/photo.php?fbid=445208582164046&set=a.345584488793123.87046.242196205798619&type=1&theater 
Sarah Mirembe is pictured with Rachel Eggum Cinader of the Dress A Girl Organization in Uganda.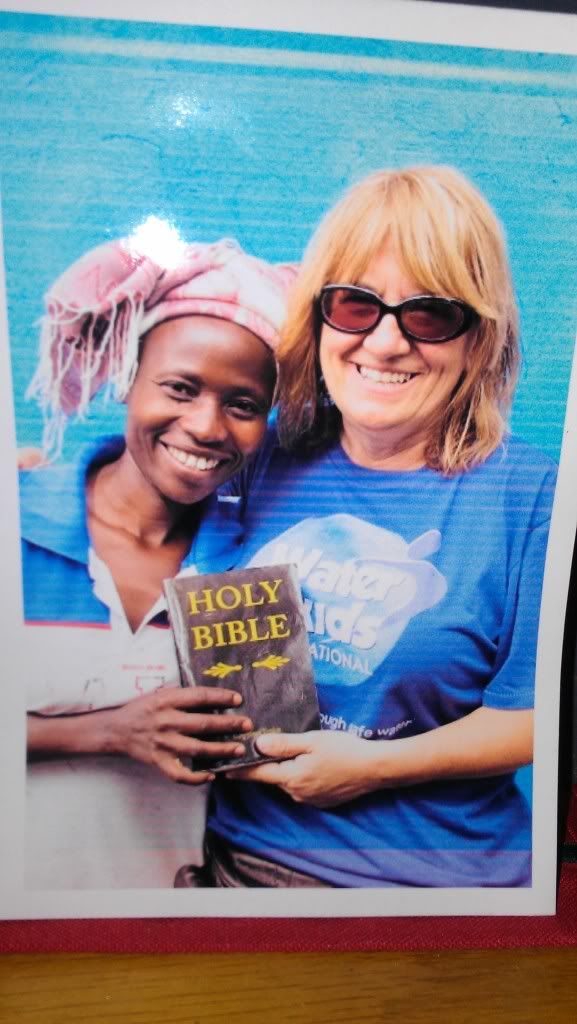 About Our Sponsored Woman:
Sarah Mirembe is 39 years old. She has five children. Her father and stepmother mistreated her. Sarah could no longer take the abuse and left home and got married. Her first husband started mistreating Sarah after the birth of her first child. He would beat her badly whenever they had a disagreement. The humiliation was too much to bear. She left him. Her current husband is a night time security guard but doesn't take much responsibility for the family. He makes life difficult for Sarah and mistreats her. Currently Sarah sells food items such as omena, tomatoes, onions, groundnuts, cabbage, bogoya, eggplants, pea-leaves, and sukuma. She wants to expand her business so that she is able to pay for her childrens school fees, medical bills and meet their basic needs like food bills.

Because of your support, Sarh can overcome these obstacles and hope for a brighter future. Thank-you for making a difference in the life of our sponsored woman!  Sarah Mirembe

Kingdom Preparation - Hope 4 Women International
Together we do make a difference!
Thank You!
Sewing to Serve

Our Spring Sewfest was productive and sew wonderul!
Our pillowcase dress count was
165 dresses!!!!!!!!!
       75 Dresses and T-Shirts to Kenya to the Girls of Eden

July 14, 2011
Delivered by First Baptist Church
(Mr. & Mrs. Rademacher - Group Leaders)
      Dresses Recieved by Chipini Health Centre
Malawi - June 18, 2011
Here in Chipini we have an integrated HIV/AIDS Programme which includes our Home Based Palliative Care Programme and our orphan care programme. We have 66 Home Based Palliative care volunteers who care for the terminally ill and incapacitated patients in their villages. Their task is also to identify the orphans in their villages and monitor them, reporting any special needs and submitting names for school uniforms, secondary school fees and any other benefits available. When your gift of clothing reached us we called upon our HBPC Volunteers to bring in those children most in need of clothing. This they did and I will try to send you photos of some of the children who received the beautiful dresses sent to us.
Your gift most certainly brought joy to many children and provided them with clothing they would otherwise be without.
Thank you. May the Lord bless and reward you as He knows best. Be assured of a remembrance in our prayers.
Yours sincerely.
Sr. Cecily Bourdillon on behalf of the Medical Missionaries of Mary at Chipini Health Centre, Malawi.
Save the Date!!!!!
April 11, 2015
8:00 a.m. - 3:00 p.m.
Chapelwood United Methodist Church
11140 Greenbay Street
Houston, TX 
Williams Room 101-102 
RSVP - (832) 867-1255 
Dresses On the Way to Nebbi/Zomo District in Uganda

Our Spring Sew Fest dresses and prayer dolls will be packed this weekend, May 21, 2011 headed for the children in Nebbi/Zomo district in Uganda.  70 dresses and prayer dolls will be delivered by the mission group of Chapelwood United Methodist Church, June 1, and 15, 2011
" It will bless the children of the Nebbi/Zombo district in Uganda !" said Melissa Maher
Pastor of Serving Ministry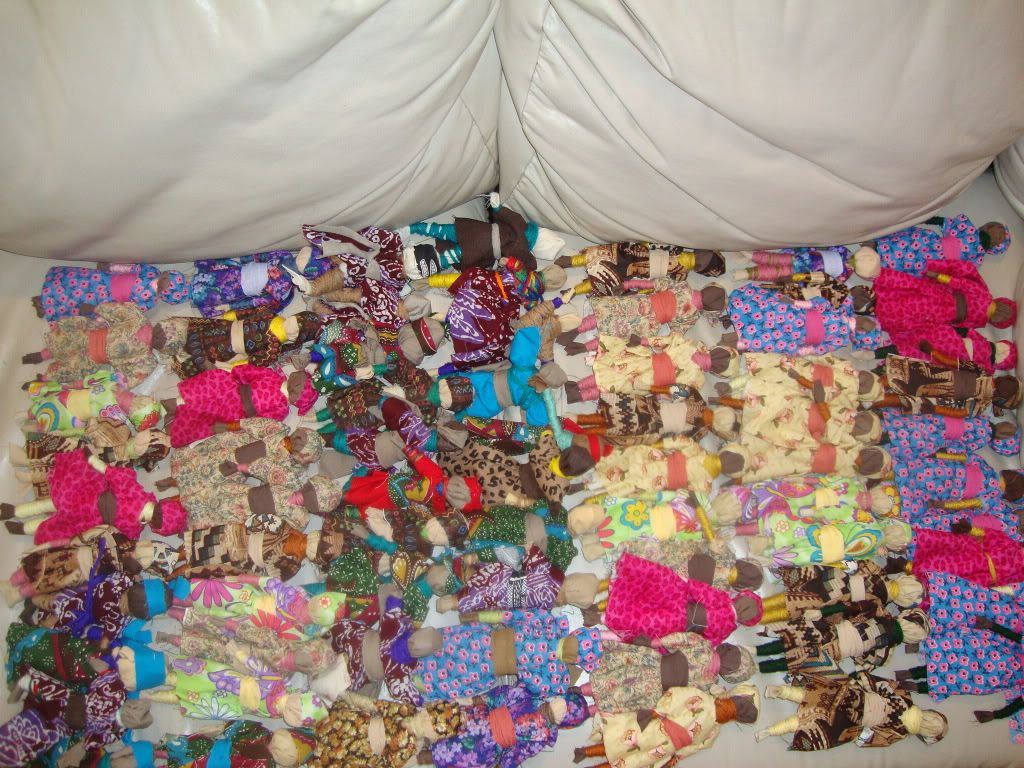 Dresses Delivered to the Hohoe Orphanage in Africa
Dear Rhnee and friends,
Thank you so much for the donation of dresses to our orphanage, Pat and Melissa Walthrop bought them when they came to visit, it was a wonderful surprise for the girls! It is very rare for them to get something new and as you can see from the photos they look lovely.
It was amazing how we had enough in the right sizes for all but the 2 oldest girls.
our motto is "helping to make children smile" you certainly helped put smiles on their faces.
Please keep us in your prayers, as we will you.
Thank you again.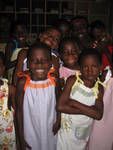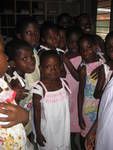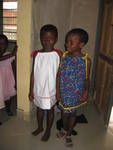 Lindy, Nicholas and the girls of the Hohoe Christian Orphans Home
           74 Dresses Made at the Spring Sew Fest                                            March 26, 2011
 Sew Fest Summary
*  We had 23 Sewers and Volunteers
*  About 20 Girl Scouts and their leaders and parents...Thank You! You all were great!
*  We watched a video update of our dresses from October to now. 
To date, we've delivered 345 dresses around the world!
* We had a tasty and timely brunch!
*  A beautiful presentation for lunch!
*  Nicole (Fifty Grader) taught the girl scouts on how to make the prayer dolls...She
    was amazing, a teacher in the making:) Way to go Nicole!
*  The girls completed prayer dolls with the Lord's Prayer in each doll (A total of 80 dolls to go along with each dress with a pocket) 16 of the dolls were made by the 
   Jr.  Doll Collector's Club and 10 were made by the Morey Family.
*  The sewers made 74 dresses!!!!! Yea!!!!!!!!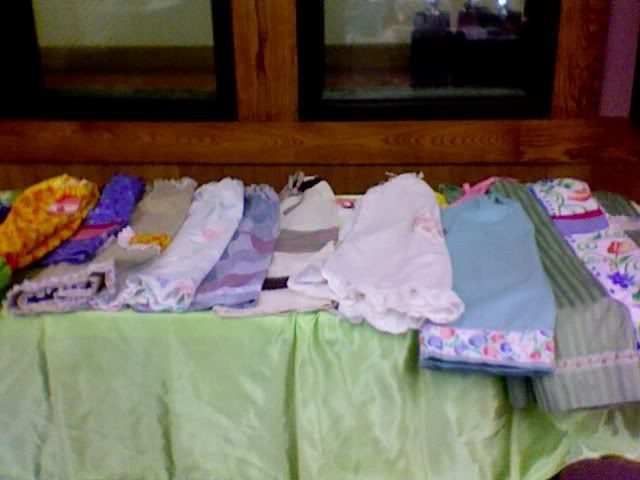 *  The dresses will be leaving for Uganda in June with the Chapelwood Church, &
    hopefully more on their trip to Haiti this summer.
*  We collected enough money to sponsor one woman in the Hope for Women
    Organization!!!!!!!
*  Not having enough bias tape for the dresses, I was forced to learn how to use my
    bias tape machine:)
*  We are collecting old t-shirts to make britches for boys! (Edith and Bonnie made 42
    pairs for Gina and I to share and disperse.)
*  They also made 114 dresses prior to today's sew fest!
*  We were blessed through one of Edith's friend's with garbage bags full of beautiful
    fabrics to make more dresses!!!!!
*  We welcomed  several new sewers and volunteers, they were awesome!
*  We received a financial blessing from one of our sewing families. After expenses,
    we will purchase a few more tubs and
     supplies to help us to be better organized. Thank you so much!
*  Our next Houston Sew Fest is in Sugarland if any of you would like to attend.  I will
    notify you when Gina sends me the Sew Fest
     information! 
*  Please keep Gina (Our Houston Rep) in prayer for God to restore her health and
    refresh her body!
*  To my sister, Renita, my family, Carvana, Courtland, Willie, Courtney, Amos and
   Mckenzie, thank you!
*  To the Wright Family, there aren't enough words to say thank you for ALL THAT
    YOU DO!
My heart is full and my cup runneth over with excitement and joy about our mission work and service! What a great day to share with people of like minds and hearts!  You all are the greatest!
Sewing and Living to Serve!
     20 Dresses to the Houston Area Women's Center
 The Kinkaid School was very instrumental in supplying our Sew Fest with over 250 pillowcases.  The school nurse, Bonnie Hetrick requested that we think of giving to the Holiday Store at the Women's Center...what better way to give back and support the people who so generously gave to us when we requested pillowcases for girls around the world!
  Molly Burns, Kim Brown, Carmen Champion and myself donated 20 dresses to Nurse Bonnie November 17, 2010 on behalf of the Sew Fest sewers and volunteers from the ACD Group.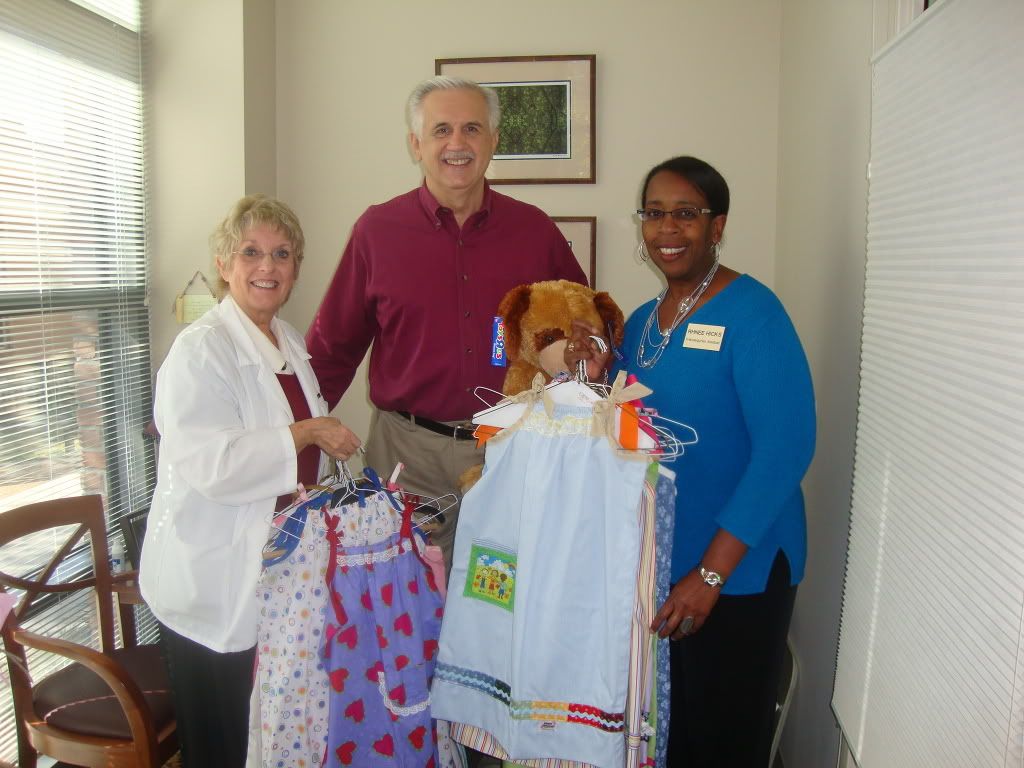 Paul Widener receiving dresses from Nurse Bonnie and Rhnee for the Shelter

The Houston Area Women's Center provides a safe shelter for women and their children  from domestic and sexual violence. The Holiday Store
at the  Houston Area Women's Center is a place where  children and parents go to make gift selections for each other free of charge.
  Sabrina Bargerstock and Paul Widener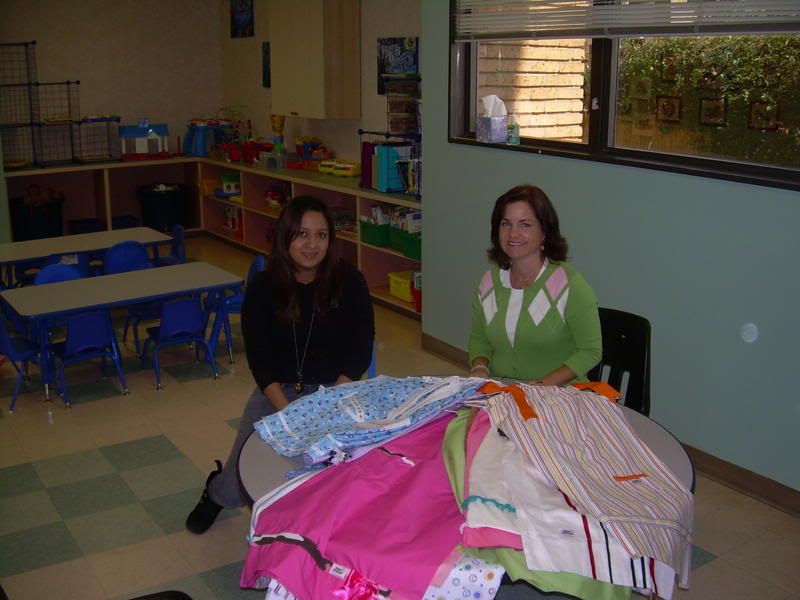 "Both the young ladies in the photos raved about the attractiveness of the dresses as well as did the front desk person/switchboard operator." 
Thank you again and the sewers of ACDSF group for thinking of Houston Area Women's Center and the Women's Shelter residents.
Paul Widener
                          100 Dresses to BEAR for CPS
Monday, November 15, 2010 Denise Moseley and I delivered 100 pillowcases dresses to BEAR for CPS.  When I walked into the room and saw the clothing and supplies my heart sunk to know that this was a representation of children that are abused and neglected! I just can't imagine hurting children of any age or size.  In the picture, it looks like there are a lot of clothes, but there was hardly any clothes for older children.  In September about 900 children were serviced, and in October over 1,000 children were serviced in Houston area.  The workers at the BEAR receiving room were very kind and gracious.  They explained the strength and stamina it takes to support the children they see. Although I would like to help more, my heart couldn't take it, but I along with my sewing friends can help to make a little girl smile when they get to pick a new dress just for herself.

  Sew Fest Photos
Serving Ministry
Chapelwood members sew for a cause
I was inspired to sew pillowcase dresses after watching a news report on Channel 13 about a group of people sewing for impoverished girls in Third World countries.
I immediately realized that this could be a sewing project simple enough for me to do, and an opportunity to bless a girl somewhere in the world by providing her the opportunity to own her very own dress made especially by me. This sewing project would also be a way of keeping girls safe from human predators because of the labels we sew on the front of the dress, letting them know that people are watching over and praying for these girls. It was a calling I couldn't resist. I located the story and logged onto the Web site for the Dress A Girl Organization and joined the group the next day.
The Sew Fests of other members on the Web site intrigued me, and I accepted a challenge and committed to make 300 dresses to contribute toward the 10,000 dress goal of the organization as they prepared to celebrate the Dress A Girl's first anniversary by the end of October.  Much planning and networking took place prior to the Sew Fest. I searched for people who would like to sew, volunteer, and/or donate enough pillowcases to make 300 dresses. We received pillowcases, bias tapes, and elastics from a variety of churches, schools, Girl Scouts, and private citizens. The vision of making 300 dresses would be accomplished by gathering 30 sewers together to make 10 dresses each in a day.
The family of one of my sewing students took on the responsibility of acquiring a space at their church, and on October 16 my heart was overwhelmed with joy as I sat and looked around the room and observed sewers young, old, and in between, filing into the sewing room at Chapelwood, sharing and sewing together to make little girls around the world smile! The vision had become a reality.
Forty sewers and volunteers gave up a Saturday to make girls around the world feel special, protected, and loved.  Sewing together as a team to accomplish a common goal was so energizing! We extended our sewing time an additional hour because the sewers didn't want to stop sewing. By the end of the day, we completed 225 dresses. Many sewers took dress kits home to make in order to complete our Sew Fest goal. We will complete our commitment within the next two weeks, and we will continue sewing year-round so we can supply dresses to girls as the need arises.
Rhnee Hicks
           50 Dresses Have Arrived to Pakistan
December 5, 2010   
Dear Friends from Dress a Girl Around the World in Houston,
    I am back from my journey to the flood affected areas in Pakistan. 
    We at Hashoo Foundation very much appreciate your generous donation of 50 beautiful dresses for the young girls in Pakistan whose lives have been affected by the devastating floods. 
    The dresses were a great a hit!! The young Pakistani girls loved their new and much needed dresses. The families are very thankful to the young girls and women in Houston who with lots of love and good wishes stitched these beautiful dresses for their friends in Nowshera. 
    I have prepared these VideoNotes with pictures, video and details for you to witness the girls in the camps wearing their new dresses. Please feel free to share these notes with your friends and associates. I would love to hear from you if you wish to get involved or have any questions. 
  Thank you again for your trust in Hashoo Foundation and your heartfelt support for these young girls affected by the devastating floods.
Sincerely,      
Cristal
Cristal Montañéz Baylor
Executive Director Hashoo Foundation USA
Dress a Girl Around the World: donated dresses & t-shirts.
Impact:  50 girls
Pillow Case Dress Directions
Find a new or gently used pillowcase.
               Cut along the top of the pillowcase (where it is sewed together  opposite of the open end).
               This will become the top of the dress.          
Lay the pillowcase flat and measure J-shaped armholes at the top corners (3 to 4"X3 to 4"-depending upon how big the pillowcase is--king sized for bigger girls, etc.)
Turn under the top edges which will be the front and back of the dress--iron under about 1/4" along raw edges and then fold again and press a casing to hold your 1/4" to 1/2" wide elastic pieces which you will cut to 7" long.
Sew close to the edge of the casing along the bottom where you first turned the 1/4" raw edge under.
Attach a safety pin to one end of your 7" long elastic and pull it through the casing using caution not to pull it too far.
Sew across each end of the casing to hold the elastic in place.
You now have your gathered top of the front and back.
Take double fold bias tape --1/2" wide and cut your armhole ties. Ties should be around 32"--long enough to tie a bow at the top.
Fold one tie in half to find the center and line it up with the center of the armhole--then work outward from there to both sides. Pin the open ends of the bias tape over the raw edges of the armhole--the ties will extend evenly over each top.
Fold the raw edges of the ends of the bias tape inside and when you sew along the tape you will catch those also.
Tie your ties and your dress is finished!
Add pockets, placing photos, prayers, blessings, or our prayer dolls inside.
Dresses Distributed in Pakistan
Hashoo Foundation distributes dresses made by girls and women in Houston for Pakistani girls in the flood affected area of Akora Khattak and Nowshera, Pakistan